British Arabian Nights
BAX celebrates 40 years of success with an equally successful concert
'Some of the most innovative performances I have ever heard'

was one audience member's description of British Arabian Nights, BAX's fundraising concert held in London on 13 February 2013.
It was indeed a suitably groundbreaking concert, bringing together European and Middle Eastern musical traditions in much the same way that BAX has been building bridges between the two cultures for 40 years.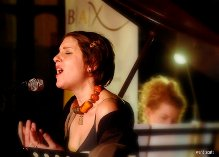 Pianist Riyad Nicolas, a rising Syrian star who has studied and performed throughout Europe and the Middle East, opened the concert with Jean Francaix's Nocturne Scherzo.  He was followed by a hearty applause and then by the stunning vocals of Merit Ariane Stephanos, accompanied by Alcyona Mick on the piano. 
Merit, of German and Egyptian heritage, believes in the importance of music as 'a means of communication and peaceful exchange'.  She and Alcyona treated the audience to a collection of Arabic songs, displaying Merit's training as a Western classical singer.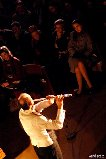 Lebanese-born flautist Wissam Boustany gave an impressive taster of his music. A particularly powerful moment was when he expressed his wonder at the wind, which roams freely across boundaries with no need for a passport.  
During a short interlude of speeches, we were reminded how far BAX has come in its 40 years of encouraging dialogues.  Trustee Judi Conner highlighted how BAX's work has never been more relevant, Ahlam Ja'fari (a Palestinian BAX alumni) spoke passionately of the impact the exchange visit to the UK had on her, and Roland Singer King Smith (an English graduate shortly to embark on BAX's exchange trip to the Palestinian Territories) described his excitement at the learning opportunity ahead of him.
And so the packed-out concert continued, under the majestic arches of St Michael's church in London, ending only after a climatic performance of Sergei Prokofiev by both Wissam and Riyad. 
The concert audience – which included ambassadors, ex-ministers, journalists, music enthusiasts, friends, and those simply with a strong interest in cultural exploration – truly added to the unique and colourful atmosphere of the evening.
BAX would like to warmly thank all of those who made the British Arabian Nights concert such a huge success: the artists (who all generously gave their time for free), the audience, the venue, the supporters and the volunteers. 
Click here to watch some highlights.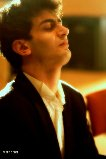 If you would like to take part in future fundraising initiatives with BAX, click here.